Educating for Participatory Politics
The Educating for Participatory Politics (EPP) project is exploring the transformations that accompany the digital age, and investigating the opportunities for educators in preparing young people to participate in civic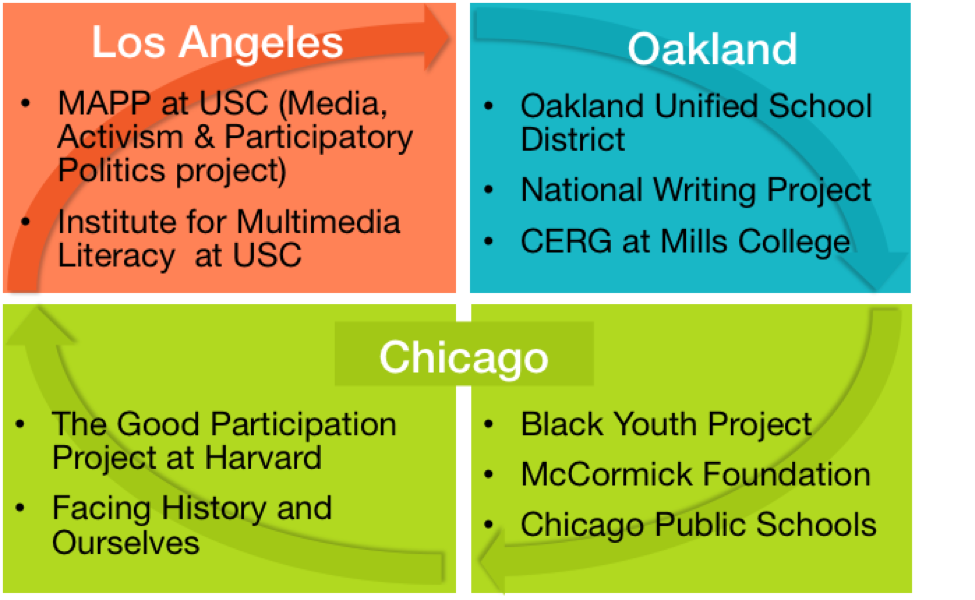 and political life. Preparing youth for democracy in the digital age requires a new approach. Web 2.0 tools and digital media have become central to civic and political life, and digital media literacy has become an essential civic competency. However, we lack sufficient models of civic education that respond to this changing landscape. Drawing on the work of the Research Network on Youth and Participatory Politics (YPP), four teams based in three different cities worked with educators and youth to develop a framework of core practices of participatory politics that articulate a new vision for civic education.
The EPP teams created and piloted model educational resources that promote young people's capacity to engage as civic actors in the digital age. The EPP Resources are curated here.
To find out more about educating for participatory politics, visit our Frequently Asked Questions or read the journal article Redesigning Civic Education for the Digital Age: Participatory Politics and the Pursuit of Democratic Engagement.
You can also watch the following video of Joseph Kahne, Mills College Professor of Education, discussing the impact of digital media on youth political participation.
EPP Project Team
Contact Information
Erica Hodgin, Research Director 
Educating for Participatory Politics Project
Civic Engagement Research Group, Mills College
510-430-2302